Abrasive Paste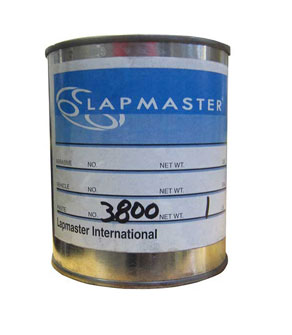 Lapmaster can provide a full line of abrasive paste products. Abrasive paste is primarily used for hand lapping and polishing processes. The viscous adhesive quality of the base carrier holds the paste and abrasive on the lap or polishing plate. The viscosity and lubricity of the base carrier provide high film strength and reduced friction. This allows higher than normal pressures to be applied to the components during processing.
Diamond paste can also be used quite successfully on a power driven polishing machine. It is very labor intensive to apply by hand, maintain proper coverage of the polishing surface and monitor the application of lubricant. Some users don't want to incur the expense of the diamond slurry dispensing system, so hand application of paste is an alternative.
Standard Lapping Abrasive Paste
Lapmaster lapping and grinding compounds are abrasive pastes designed for the precision cutting and surfacing of metals, ceramics, and other composite materials. Used as a secondary process to traditional grinding, milling, boring, and EDM machining, Lapmaster compounds allow final finishing of material surfaces not practical with other mechanical methods.
Lapping and grinding compounds are recommended for the following applications:
Producing an ultra-flat surface such as the lapping of gauges, valve seats, and mechanical seal faces. Lapping and grinding compounds
Smoothing surfaces like shaft surfaces and bearing races.
Creating perfectly-mated parts for running-in gears and finishing industrial valves.
Cleaning surfaces and removing material too difficult to remove by other methods, as in finishing hardened tool steel.
Lapmaster compounds are formulated with abrasive grains including aluminum oxide, silicon carbide, and boron carbide suspended in either an oil based or water based gel. These compounds are classified by the abrasive grit size, ranging from very coarse for higher stock removal requirements to extremely fine for high precision flatness and surface finish requirements.
Diamond Pastes
Natural and synthetic diamond paste is available. Both oil and water base paste can be selected. Color-coding is used to differentiate micron sizing, but competitor color-coding is not the same. The paste can be provided in medium, standard and strong diamond concentrations. The standard packaging is a 5 gm or 18 gm plastic syringe. The syringe protects the paste from contamination and provides a convenient controlled method for application of the product. Non-standard container sizes and types are available on request.