What are grinding and polishing diamond metallographic consumables and material technologies?
Lapping and Metallographic Abrasives: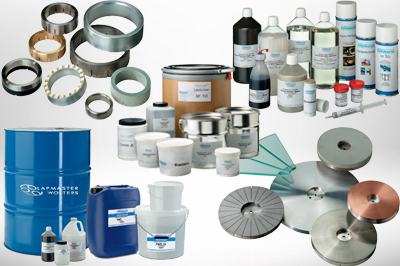 The lapping abrasive grains must bring a certain hardness, toughness, thermal resistance and chemical resistance to a material removal process. Consumable lapping abrasive can be used in conjunction with bonds and pore formers in fixed abrasive diamond grinding wheels which will determine their wear resistance.
What are conventional diamond lapping abrasives metallography consumables?
Conventional metallographic consumable abrasives for lapping and polishing are based on corundum, the crystalline form of aluminium oxide (Al2O3), and carborundum, the crystalline form of silicon carbide (SiC). Aluminium oxide is generally coded A in fixed abrasive wheel manufacturing while silicon carbide is generally coded C.
The metallographic consumable corundums are divided into:
Normal aluminium oxide lapping abrasive
Semi-friable aluminium oxide lapping abrasive
Aluminium oxide white, pink and ruby lapping abrasive
Mono-crystalline aluminium oxide lapping abrasive
Micro bubble aluminium oxide lapping abrasive
Sintered aluminium oxide lapping abrasive
What are metallographic lapping and aluminum oxide consumables?
Aluminium Oxide (Al2O3)is typically used for achieving a fine lapped finish on softer materials prior to polishing. E.g. brass, glass. This is the softest (in relative terms) and most "friable" fused synthetic lapping abrasive offered by Lapmaster Wolters. Because of this materials friability it is considered a fine finishing abrasive. In terms of stock removal, aluminum oxide is efficient for cutting materials with a Rockwell "C" scale hardness up to 54. Although, aluminum oxide is sometimes used to process materials harder than 54C to generate a specific surface roughness, it is normally after a roughing step with a more suitable abrasive. There are two forms of aluminum oxide offered by Lapmaster Wolters. The most common product is technically called micro-graded dark brown fused aluminum oxide and the other type is micro-graded calcined white alumina.
What are metallographic lapping calcined aluminum oxide consumables?
This form of aluminum oxide is recommended for electronic materials processing. The reason for this is the minimal depth of component material subsurface damage created by the more gentle cutting action of this materials non-fused, flat plate like crystals. The cutting action is less stressful because the crystals slide and shave stock from the component instead of gouging a chip of material as a blocky shaped fused crystal does. The flat shape of the crystal helps minimize cutting pressure by contacting more area of the component thus distributing the cutting force over a larger area.
Calcined aluminum oxide is available with and without a suspension treatment. The suspension treatment is a chemical coating of the abrasives individual particles that allows the particles to remain in solution for a longer period when using water as the vehicle. Suspension treated abrasive is not required when lapping with oil or water-base lapping vehicles. 
Some users of calcined aluminum oxide are lapping metal components. This is due to scratching problems experienced with the standard fused aluminum oxide. Other customers have reported more scratching problems when using calcined material. This simply points out the fact that every application is different and must be evaluated on its own merits.
What are metallographic lapping silicon carbide consumables?
| | |
| --- | --- |
|   |   |
Silicon carbide is significantly more expensive than aluminum oxide, so even though it cuts much faster it may still be more economical to tolerate the longer process time of aluminum oxide processing. Customers must evaluate the trade-off of process time versus cost per component in addition to the achievement of the required engineering specifications.     Silicon Carbide (SiC) is typically used for general stock removal and the removal of machining marks on a variety of materials. E.g. mild steel, stainless steel. This material is considered an aggressive cutting, high stock removal abrasive. It is required to cut materials with Rockwell "C" scale hardness of 55 and higher. Obviously this abrasive can be used to machine softer materials when the surface finish requirement is not so precise. The surface roughness of material processed with a specific grade of silicon carbide abrasive will be higher than those achieved with aluminum oxide of the same particle size. The appearance will be significantly different as well. Aluminum oxide produces a matte finish with very few micro-scratches as opposed to silicon carbide of the same size that produces a very micro-scratched finish.
The silicon carbides are only available in the colors green and black. Green SiC is used for precision grinding tasks, Black SiC is used in rough machining, such e.g. Cast brushing, rough rough grinding tasks
Corundum has a Knoop hardness between 1,900-2,200 N/mm². The heat resistance is between 1,750-2,000 ° C.
Silicon carbide has Knoop hardness between 2,400-3,000N/mm². The heat resistance of about 1,370 ° C.
What are super abrasive lapping and metalographic consumables? 
Super abrasive are based on cubic boron nitride (c-BN) and diamond (C). Cubic boron nitride is generally coded B in fixed abrasive wheel manufacturing while diamond is coded D. For reference,  Borazon was the brand name of cubic boron nitride when first produced by General Electric in 1950s.
Diamond is the hardest material with a Knoop hardness of 7,000-8,000 N/mm², but the thermal resistance is very low. At approx. 750 - 800 ° C, the diamond loses its hardness through oxidation. Diamond tends to dissolve in iron bassed alloys at high temperatures essentially carburizing the alloys and making the abrasive less effective. This material is generally used for most machine polishing applications. It is most frequently applied to a soft polishing pad, always used on Kemet polishing plates and sometimes utilized on cast iron lapping plates. When diamond is used in a lapping application it is typically used to lap extremely hard materials where high production rates are required.
In use, diamond abrasive particles maintain their size because of their hardness and extremely low friability rate. This allows diamond-lapping slurry to be recycled. I want to be clear and indicate that I'm not talking about the standard pre-mixed diamond polishing slurry that should not be recycled. The diamond lapping slurry I'm referring to is not a standard pre-mixed product offering. I'm referring to a standard water-base lapping vehicle with a relatively high concentration of diamond powder mixed into it.      
CBN has a Knoop hardness of 4,500-4,700 N/mm². The heat resistance of CBN is between 1,300-1,400 ° C.
What are abrasive consumables used for?
Cerium Oxide
Cerium Oxide (CeO2) offers an enhanced polishing performance for optical flats, as well as other applications like filters and prisms. Cerium oxide has long lasting polishing efficiency providing excellent surface quality. Cerium oxide can retain its effectiveness over longer periods, even when used under demanding polishing conditions. It's used for optical pitch applications and with a variety of pads. This abrasive is used strictly for polishing glass like materials on a soft polishing pad or pitch polishing plate. The average particle size utilized is typically somewhere in the range of one to three microns. Some brands of cerium oxide have a slightly high pH level. These abrasives cause an oxidation of the surface being polished. The oxidized material is mechanically removed by the rotating action of the pitch plate or polishing pad. 
Polishing machines utilizing cerium oxide abrasive slurry should be protected from corrosion by using stainless steel components and epoxy paints. The water most commonly used with the cerium oxide is also a source of corrosion for unprotected ferrous metal machine components. The standard Lapmaster Wolters pitch polishing machines are constructed appropriately to eliminate corrosion problems from contact with water and high pH abrasive. It is important to consider this issue whenever quoting a standard lapping machine that is modified for cerium oxide polishing.
Boron Carbide
Boron Carbide (B4C) is typically used for when faster stock removal is required for the removal of machining marks, etc. It is a preferred abrasive for hard materials. E.g. Tungsten Carbide, tempered steel. Boron carbide abrasive is an extremely aggressive cutting, ultra high stock removal product. It is recommended only for lapping the hardest materials, generally limited to tungsten carbide and titanium carbide. It is cost prohibitive to use this abrasive for lapping of any other materials due to the exorbitant price of this product.
Basic summary that applies to most abrasive:
The abrasive must be very hard and as tough as possible, so that the workpiece material removal rate is higher than the fixed abrasive wheel material removal rate. Ideally, the abrasive maintains its sharpness to keep the cutting stable over a long period of time.
The abrasive should have sufficient thermal resistance, so that the grain can withstand both the high processing temperatures and the rapid temperature changes.
The abrasive should be chemically resistant, so that at higher pressures and temperatures as well as when in contract with air, coolant or material of the workpiece no chemical compounds weaken the grain.
Colloidal Alumina
This is a chemical slurry used to CMP process a wide variety of materials, but typically semiconductor materials. The slurry is used by dispensing it onto a soft polishing pad, usually a soft poromeric urethane (ex: Polytex Supreme) for semiconductor polishing or another type of soft fabric pad. When used in a suitable polishing technique this slurry will produce the highest quality scratch free reflective surface roughness. Depending on the specific product, the liquid colloid has a pH value of 8.5 to 12. This chemical generally oxidizes the material being polished as well as any unprotected machine components. Sub-micron size alumina abrasive particles are added to the colloid in very low concentration. Once again, the abrasive particles serve to mechanically remove the thin layer of oxidized material.
Colloidal Silica
This chemical slurry is identical to colloidal alumina except the abrasive added is sub-micron silica particles. 
What are resin and vitrified abrasive bonding agents:
The grinding wheel bond has to fulfill the following tasks:
Integration of the abrasive grains
Thermal conductivity
Chemical resistance
The most important bonds when using the conventional abrasive are the vitrified or glass and resin or polymer (also known as bakelite) bonds. Vitrified bonds are generally catagorized as V while Resin bond are generally catagorized as B by fixed abrasive wheel manufactures.
The vitrified bonds have the following positive as well as negative properties:
Brittle and therefore shock-sensitive
Temperature-resistant but sensitive to temperature changes
Chemically resistant to cooling lubricants such as oil and emulsion
Resin bonds on the other hand, are resistant to shocks and impacts as well as lateral pressure. The chemical resistance to cooling lubricants such as oil and emulsion is worse than with the vitrified bond. Shelf life is a maximum of 3 years according to the FEPA (Federation of the European Producers of abrasive) standard. The reason for this is the constituents of the resin bond tend to degrade overtime. This applies to both the conventional and the super-abrasive grinding wheels.
In addition to the vitrified and resin bonds, the metal bond (generally catagorized as M), the galvanic or electro plated bond (generally catagorized as G), and the hybrid bond (generally catagorized as H). Hybrid bonds are as the name suggests are mostly mixtures of resin and metal bond.
Disadvantages of the bonds of super abrasive grinding wheels are:
Vitrified bond: For diamond grinding wheels, the firing temperature must be well below 800 ° C due to oxidation. This type of binding is still relatively easy to dress.
Metal bond: dressing with slide rolls or dressing diamonds, such as single-grain diamonds, is not possible. This type of bond must be dressed on sharpening machines with silicon carbide grinding wheels and then sharpened.
Galvanic bond: This bond can not be dressed using conventional dressing methods.
At the moment, the EDCM (Electro Chemical Discharge Machining) dressing method is favored for the metal bonds as well as the galvanic bond. There is also a hybrid
Technology that consists of an electrochemical and spark erosive process.
Another catagory of bond is Elastomer or E which are generally used for polishing application and are made from natural or synthetic rubbers.