Accupol Wafer Thinning Fixtures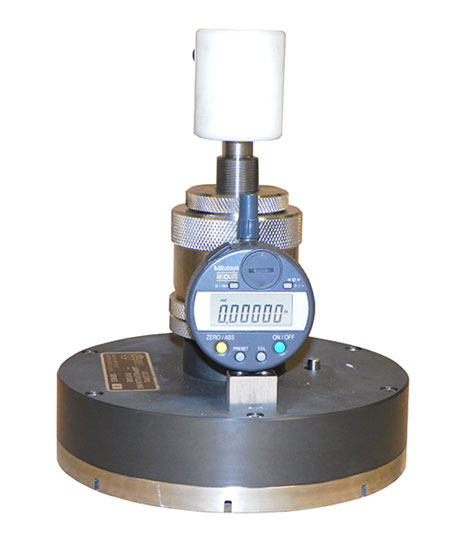 The Accupol fixture is a precision vacuum gauge used for the same purpose as the diamond stop fixture- processing thin and fragile components. The main differences are the Accupol incorporates a conditioning ring into its mechanical assembly. The machine conditioning ring is removed and the Accupol is placed directly against the machine roller yoke bearings for processing. The component parallelism is controlled by the manufacturing tolerances of the fixture, specifically the squareness of the vacuum chuck face and wear ring surface to the piston bore. An adjustable threaded stop collar controls the decent distance of the vacuum chuck containing the component instead of diamond stops controlling the decent of the entire fixture.
Economical Tool to Process 3"-4"-6"Wafer or Multiple Small Wafers/Devices
Thins Wafers to Under 75 Microns
Maintain/Improve Taper to < 1 Micron
For Both Lapping & Polishing Applications
 The Accupol is equipped with an electronic dial indicator that will indicate how much component stock is removed or when a specific component thickness is achieved.Lapmaster offers three standard Accupol sizes for use on the Model 12, 15 and 20. A special roller yoke is available to allow the use of an Accupol 12 on a Model 15 machine. Custom Accupol designs can be quoted on request.
The Lapmaster Accupol system is very simple to operate. The unit is designed to only process components that require parallel thickness and demanding thickness variation.
There are basically three (3) adjustments that can be made to the Lapmaster Accupol system:
Setting the digital gage for monitoring the removal rate
Setting the unit for mechanically "stopping"any additional material removal/vertical travel
Setting the unit for "spring tension"and overall down-force
For best overall results, the vacuum chuck face should be flat within 1-2 helium lightbands, with a polished and scratch-free surface finish. In addition, the conditioning ring (which is bolted to the Accupol body) should also have a flat surface (the side that contacts the lap plate) and the overall parallel on the ring, when de-mounted, should be within 0.0003"or less. All settings made to the Accupol should be made on a very flat and clean surface, such as a granite plate